Welcome to Agustiady Lean Six Sigma LLC
Transform your business with Continuous Improvement and Lean Six Sigma!
We are an accredited organization where you can maintain your Lean Six Sigma certifications and have expert advise help save your company money utilizing Lean Six Sigma and Sustainability!

You will receive coaching and mentoring through your Business Transformation or certification process!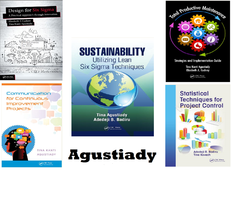 Continuous improvement refers to all aspects of improving processes, products, methodologies, and techniques to ensure they provide more value to customers and are sustainable. This entails topics such as six sigma, lean, design for six sigma, quality, waste reduction, preventative and predictive maintenance, machinery, Total Productive Maintenance, Sustainability and much more. Continuous improvement involves using various methodologies to design and measure changes to document the quantitative and qualitative improvements and sustain the gains. This involves breakthrough thinking and changing the culture of an organization. Agustiady Lean Six Sigma can cover the methodological and cultural aspects of driving continuous improvements in all types of organizations for sustainable results. The concepts behind continuous improvement will ensure companies innovate and become the best in class with successful financial impacts.
The goal for Agustiady Lean Six Sigma LLC is to ensure companies embrace change and are continuously improve to be the best in class. Each company that does not embrace the operational excellence journey will lose their market to competitors. The services provided by this business are:
· Waste finding and elimination
· Lean and Six Sigma Certifications and Education
· Total Productive Maintenance Implementation
· Economic and Return on Investment Capital Projects
· Maintenance and Reliability Engineering
· Data Analysis
· Design for Six Sigma
· Sustainability and Green Conservation Analysis
Inquiries may be submitted to:Tina Kanti Agustiady, President
Business Transformation Leader and Master Black Belt
Agustiady Lean Six Sigma LLC
Tampa, Florida
Phone: (440) 381-1716
(440) 241-9370
tinaagustiady@gmail.com
​
tina@agustiady.com
Tina is an exceptional instructor. Not only is she extremely knowledgeable in the Lean Six Sigma field, but her practical experience combined with her passion and dedication towards her students are a guarantee that you get the most value out of her lectures. She ensures she caters to individual needs and interests, makes herself available after class hours and I don't recall an example where Tina didn't go above and beyond, following up to ensure the students understand the concepts taught while providing practical examples and emphasizing practical applicability. She ensures she is also providing reference materials for those who want to dive deeper into certain concepts and she encourages group discussions and asks thought provoking questions related to the new concepts introduced. I would be delighted to take any future classes taught by Tina!
Thank you,
Alexandra Hotaran
October 17, 2017, Alexandra was a student for Tina for multiple courses at Villanova University
I know Tina in a capacity of my instructor during Six Sigma Green Belt program offered by Institute of Industrial and Systems Engineers at Texas Tech University. It was a great learning experience. She shared her journey from an Industrial Engineer towards being an established Six Sigma professional which will always inspire me. She has worked on an extensive range of projects in the field of continuous improvement. She effectively related her experience while teaching Six Sigma Methodology to students with diverse academic backgrounds. Real life project practices shared by her were beneficial to understand why we are learning these tools. She has the passion for continuous improvement of a manufacturing facility from safety, efficiency, and ergonomic aspects. Tina is an excellent presenter, teacher, and Six Sigma professional, and I wish her all the best for her professional endeavors.
Shantanu Patil
November 2, 2017, Shantanu was a student for Tina at Texas Tech University for a Six Sigma Green Belt
Overall, my experience taking the 6 Sigma Green belt class with Mrs. Agustiady was FANTASTIC. Before going into class, I thought that I would be stressful and complicated; however, the way the instructor presented the information was relatable, dynamic and direct. I am convicted that this was a great investment because 6 Sigma opens up a door of opportunities. The highlight of the course, in my opinion, was Mrs. Agustiady saying how much you could earn by being an IE with a 6 Sigma certification. I will DEFINITELY recommend my IE friends to take this course.
Brian A. Trujillo
November 2, 2017, Brian was a student for Tina at Texas Tech University for a Six Sigma Green Belt
"Tina was a crucial part in my ability to obtain a Six Sigma Green Belt in that her teaching method was impeccable. She has a winning personality that makes learning that much easier. Her intelligence in the subject matter of Six Sigma is impressive and astounding." - Kalyani Srimatkandada
April 21, 2013, Kalyani studied with Tina at Clemson University
I have taken two of Tina's courses on Lean Six Sigma topics and would highly recommend her. She is a very attentive professor even through the classes are online. She provides countless resource articles, examples, and books every week. She is happy to answer questions and provide more detail on topics the class is struggling with. She knows her stuff!
Jordan Green
October 31, 2017, Jordan
was a student for Tina for multiple courses at Villanova University


Very responsible and easy to work with. She manages multiple tasks very effectively.
MD Sarder
September 14, 2014,MD has worked with Tina for many years in the Industrial Engineering field
"Tina delivered an exceptional presentation that demonstrated a real-world case study of the application of Six Sigma methods for practical problem solving at Nestle at the annual Institute of Industrial Engineers Solutions Conference. This was the most interesting presentation in the quality track - a true best paper!" - Gregory Watson
"Tina's passion and attitude for six sigma is contagious. A great person to work with and is always willing to help with her six sigma expertise whenever needed. As a result of her attitude and teamwork, our group is directly responsible at exceeding our Division cost savings target." - Andry Agustiady
"Tina's knowledge of six sigma was a driving force in a successful project we worked on together. She is highly organized and motivated and the skill set she has was directly responsible for the savings and return on our project. Tina would be a critical asset to any team and/or organization." - Keith Smith
---